DESCRIPTION
Key Features
★ Durable & Reliable: For safety and stability considerations, we enlarge the diameter of the swing tubes (0.98 in) and expand the opening width of the swing legs (63 in), which are larger than those in the market. Besides, our swing set also comes with four plastic footpads, which are non-slip and further increase the stability of the swing.
★ Creative Combination: The swing set consists of one jumper swing and one hanging swing. The previous has a skin-friendly cotton seat and a durable chain spring, and the subsequent equips with a comfortable canvas seat and a soft backrest cushion. With this swing set, toddlers can enjoy the fun of jumping and the joy of swinging.
★ Labor-saving & Space-saving: There are clamping screw knobs that are beautiful and useful, helping to fasten the support tubes to increase the swing frame's stability, and they are also easy to loose. If the swing set is not in use, just fold it up to store.
★ Mom's Helper: The standing jumper is beneficial to developing baby kids' coordination, strengthening their muscles, and improving their balance. Once they are tired, the canvas hanging swing will be a good place to rest. It is important to keep a balance between training and leisure. 
★ Safe & Sturdy: The weight capacity of the jumper swing is 50 lb, and that of the hanging swing is 35 lb. By the way, this swing kit can be used indoors and outdoors, no need to worry about the weather anymore.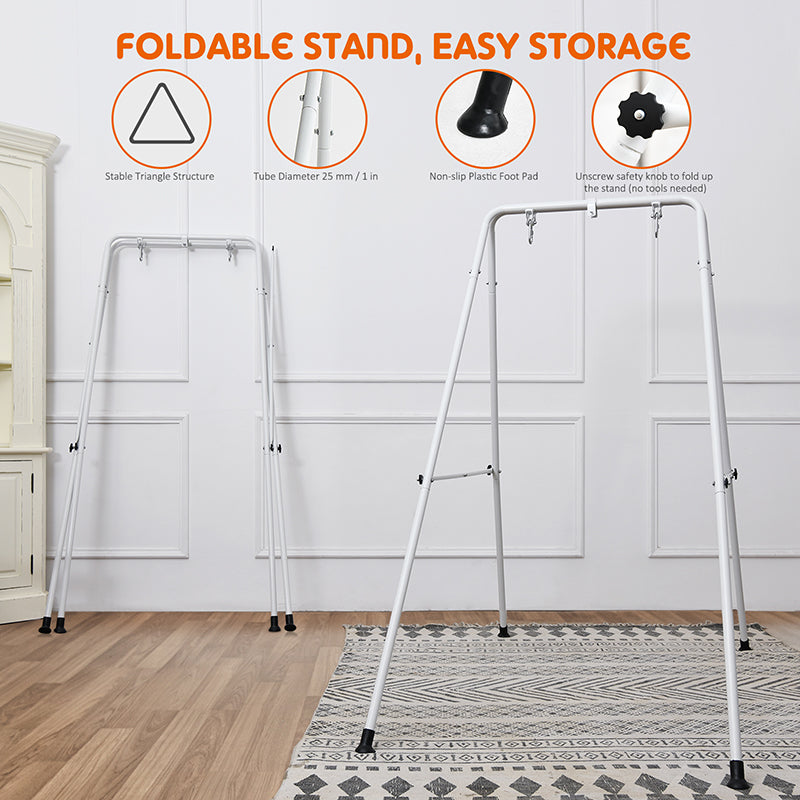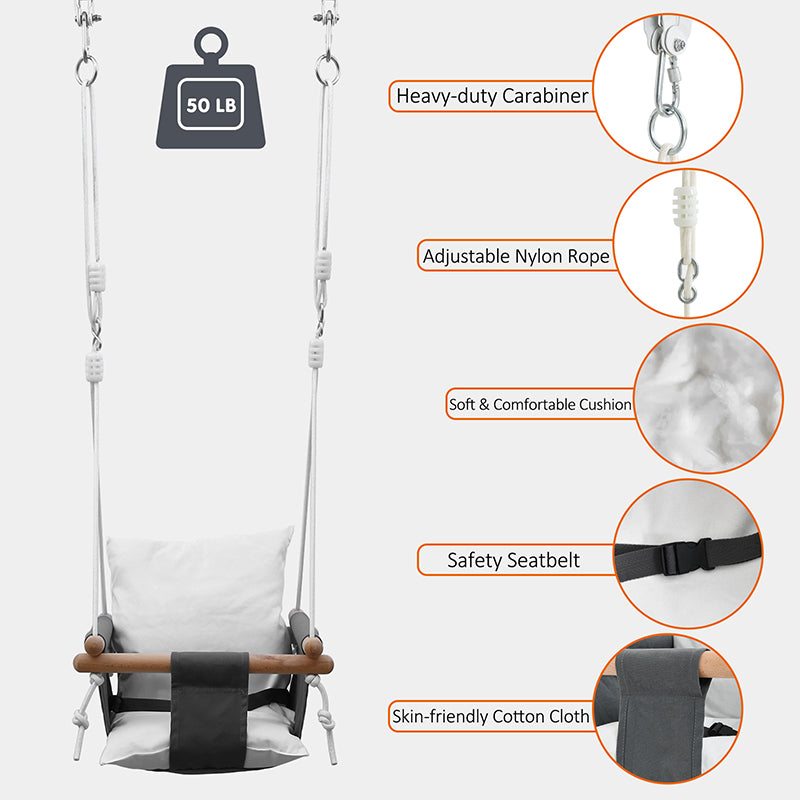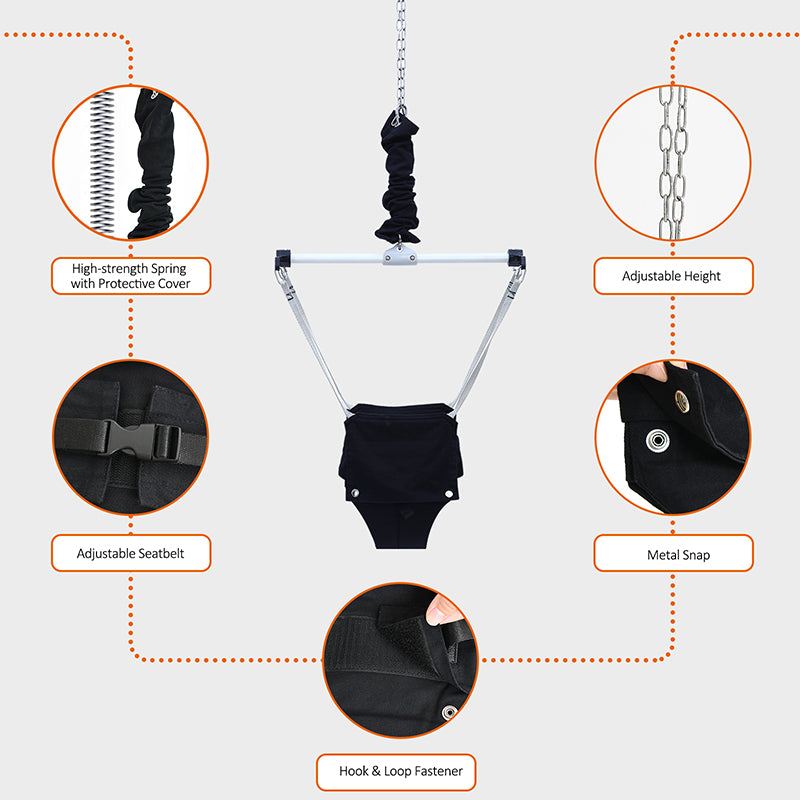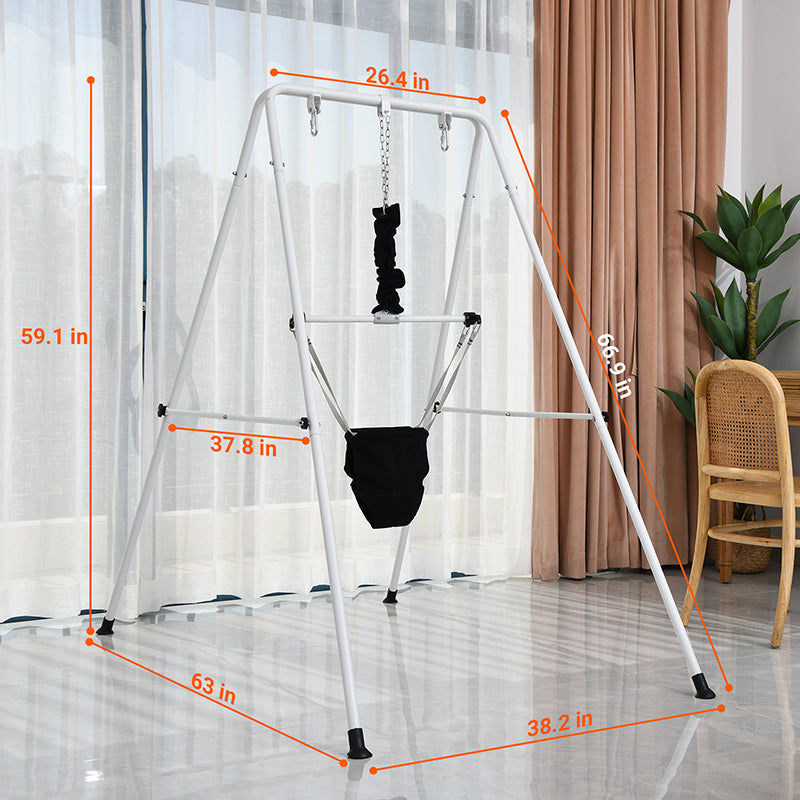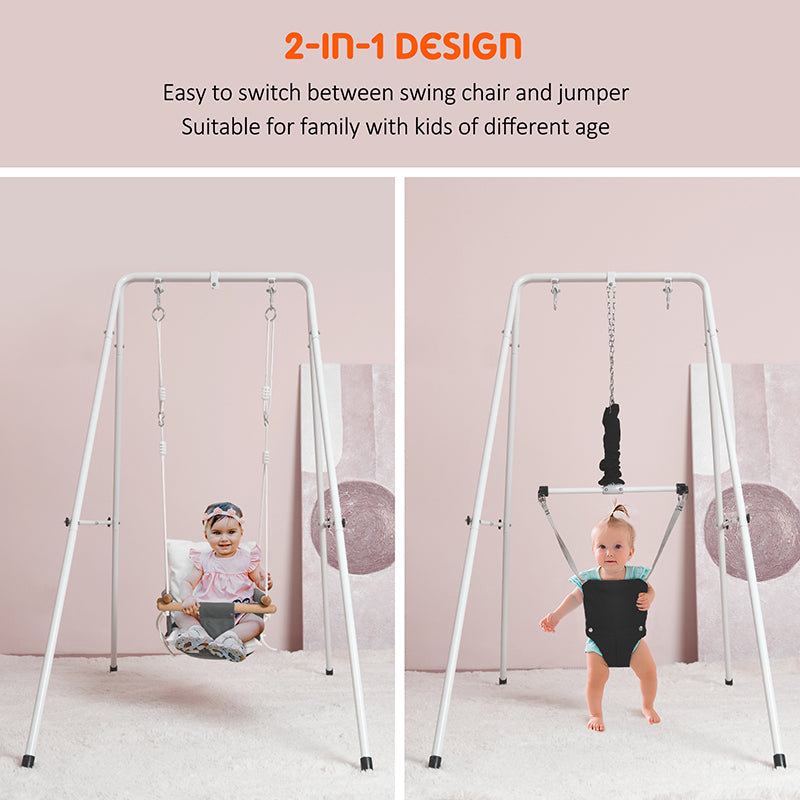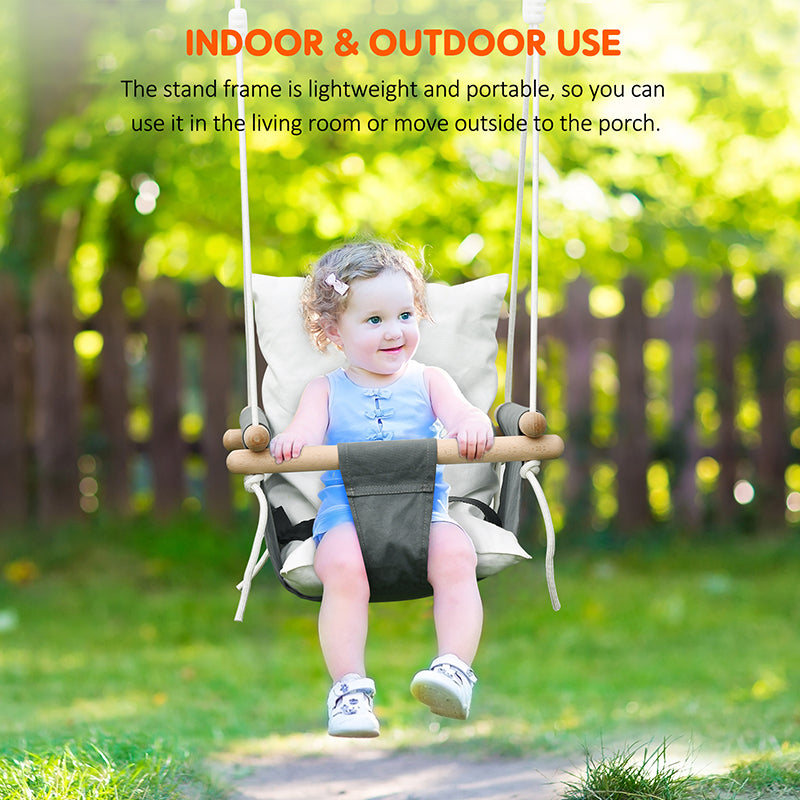 SHIPPING & WARRANTY
Our goal is to provide you with the best shipping options to ensure that our customers receive the items as quickly as possible. In order to ensure the timeliness of your receipt, your items will normally be shipped from our US warehouse. The time frame for order delivery is divided into two parts:
1. Processing time
Within 24 hours on working days (Monday~Friday: 9:00 am to 18:00 pm, GMT+8:00)

Within 72 hours on weekends and holidays                              

2. Shipping time

Notice
①Free shipping to most states of the USA, But If your location belongs to a remote area (e.g. Hawaii, Alaska, etc.), the buyer should bear the remote fee incurred (Our customer service specialist will contact you before delivery).

②If you want to ship to Europe (such as Germany, Austria, Switzerland ), pls visit and place the order on our German website: https://www.autojoy.de/, if you want to ship to Australia, pls visit: https://www.autojoyau.com.

③If the goods could not be delivered in time due to logistics problems, we will contact customer to resend or refund.

④Affected by Covid-19, there will be some delays in the delivery.
3. Shipping Company
4. Complete Delivery Address
When ordering, please provide the full delivery address including door number, zip codes and so on. Please provide a contact telephone number in case there are questions regarding a delivery location..
5. Order Tracking
We will arrange the shipment for your item within 2 business days after payment confirmation. Once your item is sent, an email with tracking number will be sending to you as well..
6. What should I do if I received the wrong item?
Please contact our service team within 7 days once you have received the wrong item. we will help you solve this problem as soon as possible.
7. What should I do if I did not receive my product?
If the product is on the way more than 9 working days, we will send a 10% coupon to your email for conpensation.
If the package had been signed but actually you still did not receive the product, we will ship another new one to you after we check the express details. Pls contact us immediately if you got any shipping question.
8. How to check your order status?
Once your item is sent, an email with tracking number will be sending to you as soon as possible.
FAQ
1. When will I receive the item after placing the order?
---If not for Pre-sale---We ship products from CA. Generally, it takes 3-9 days after you place the order.
---If for Pre-sale---You will wait for the pre-sale time, plus 3-9 days shipping time.
2. Can the swing be hung on my swing set?
Sure. If your swing frame has hooks, you can use carabiners directly. If your swing frame does not have fixed hooks, you can use the tree straps to fix it. These accessories are provided together, no additional purchase is required.
3. Does this come as one piece or 'broken down?
It comes as broken down pieces but is easy to assemble if following the instructions.
4. Is this lead-free?
Yes. It is lead-free. Our products exceed the ASTM F963-17 safety standards for playground toys which include tests for lead.
5. Can I hang the swing without a tree?
If you do not have a tree or swing frame, we recommend you choose the swing set to withstand. Learn more --> Swing Set
6. Any other questions?
Customer Reviews
You may also like these products