DESCRIPTION
Size: 32'L x 3'H


Volleyball: Soft high-quality



Handbag: 600D Oxford 

Material: Nylon hybrid mesh

Brand: Pumpkin
SKU: CJ0705Y
Description
Key Feature
The newly upgraded standard size (32'L x 3'H) nylon hybrid mesh not only increases the number of single-sided fixed webbing to 6, but also uses higher quality mesh cloth on the sides and bottom instead of Nylon rope can be better fixed, and it is stronger and not easy to sag
High-quality steel pipe with a wall thickness of 0.8mm, and the top design allows you to easily adjust 3 different heights (men-8', mixed-7'8", ladies-7'4"), suitable for everyone to play together
The guide rope system and the ground nail can keep the net upright, and the boundary rope can perfectly define your own court
Soft high-quality volleyball. The PU leather surface is not only soft and elastic, but also reduces the damage of the arm and wrist in the slap. The yarn-wrapped liner can effectively prevent the volleyball from inflation and rupture.
The strap design is convenient and quick to install, and the 600D tote bag also allows you to carry it conveniently. It allows you to carry out volleyball entertainment games suitable for 2-4 people in the courtyard, park, summer camp, and social activities.
Main Structure

The body of net is PE material, which is 32' L x 3' H, fully edged with 0.35mm*1.5" PVC net.
6 Polyester webbing side straps on each side.
4Pcs Guideline in Lemon yellow, which is 3.5mm*24"
1 Pcs Boundary Line and 4 pcs nails
3 pcs premium steel poles measures¢32mm*0.8mm*34" on each side, and you can adjust the tube into three kind of height, which allows you set either men's, women's and co-ed playing heights.
Plastic tube base
8.5"PU volleyball
600D Oxford handbag
Inflators with two Gas needle
Product size: 32' L x 3' H
Product package size: 103 x 24 x 10 cm
Product package weight:6.15kg

Package

2*Top pole
1*Net
1*Bag
2*Needle
2*Mid Pole
2*Guide Rope
1*Air Pump
1*Winding Wire Rack
2*Bottom Pole
1*Boundary Line
1*Volleyball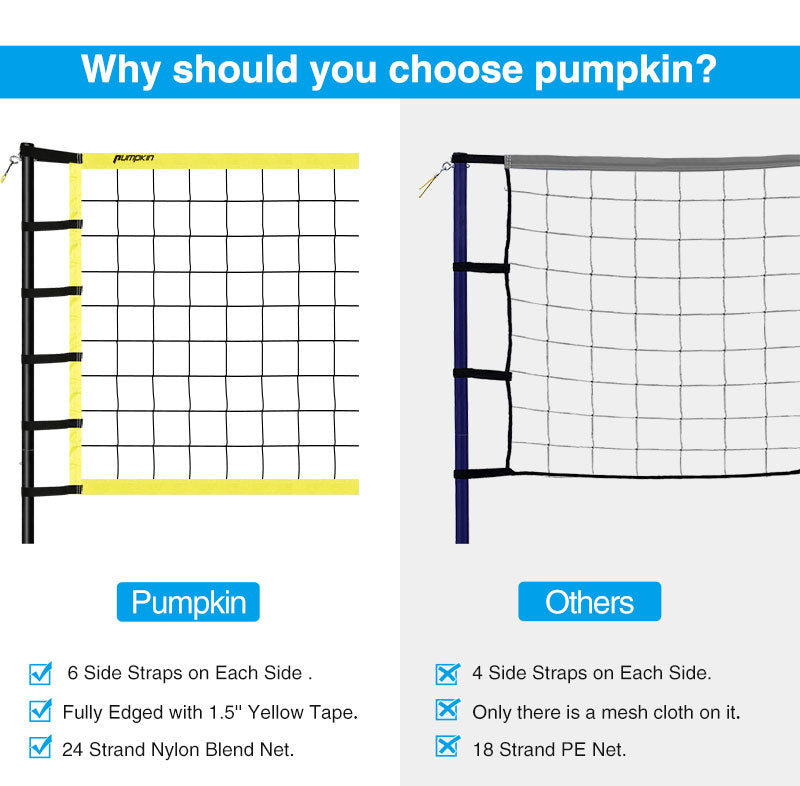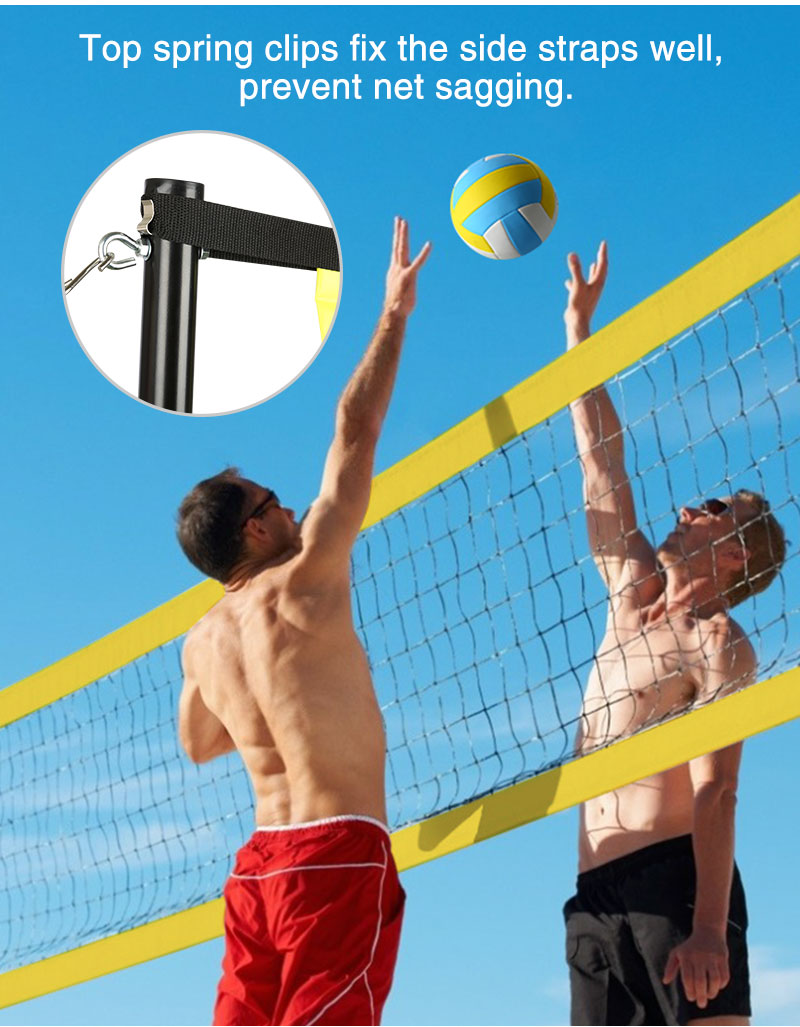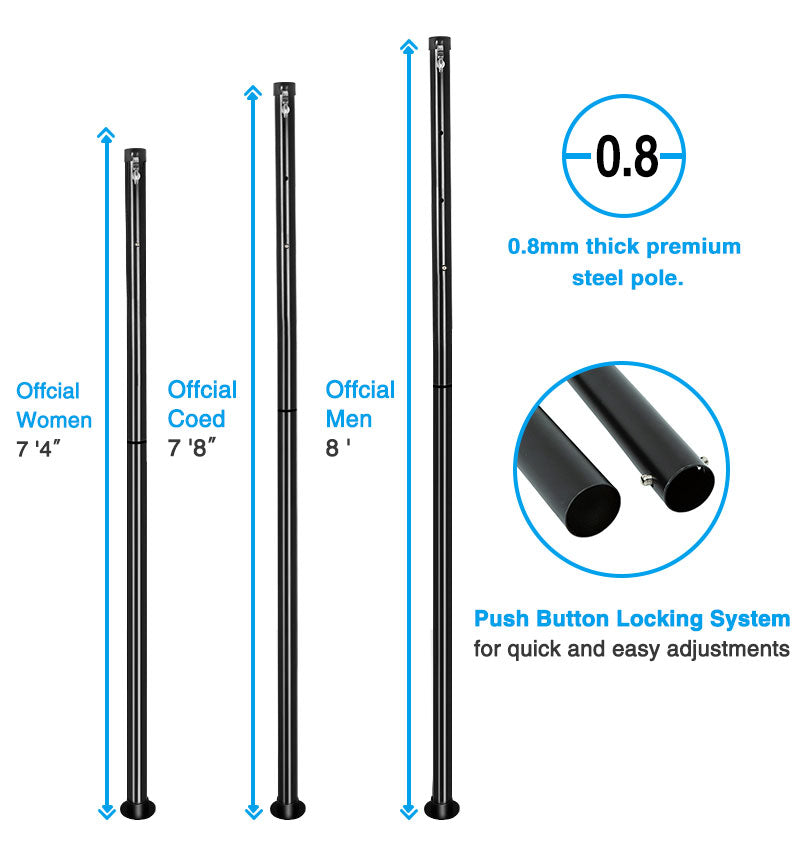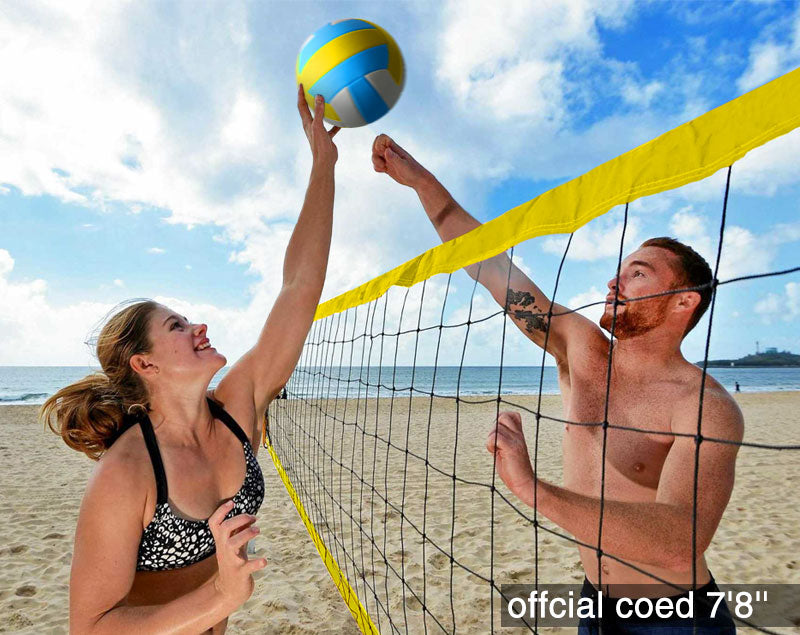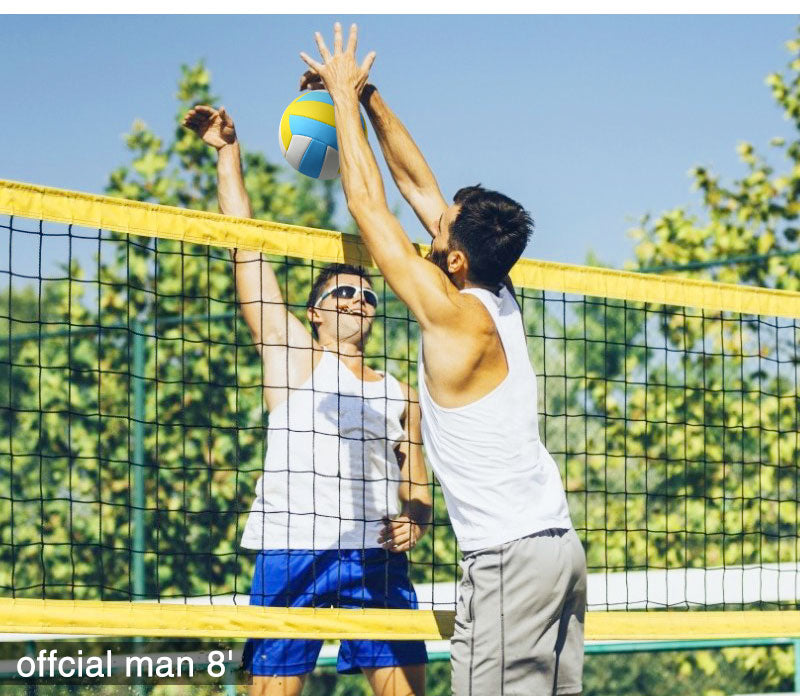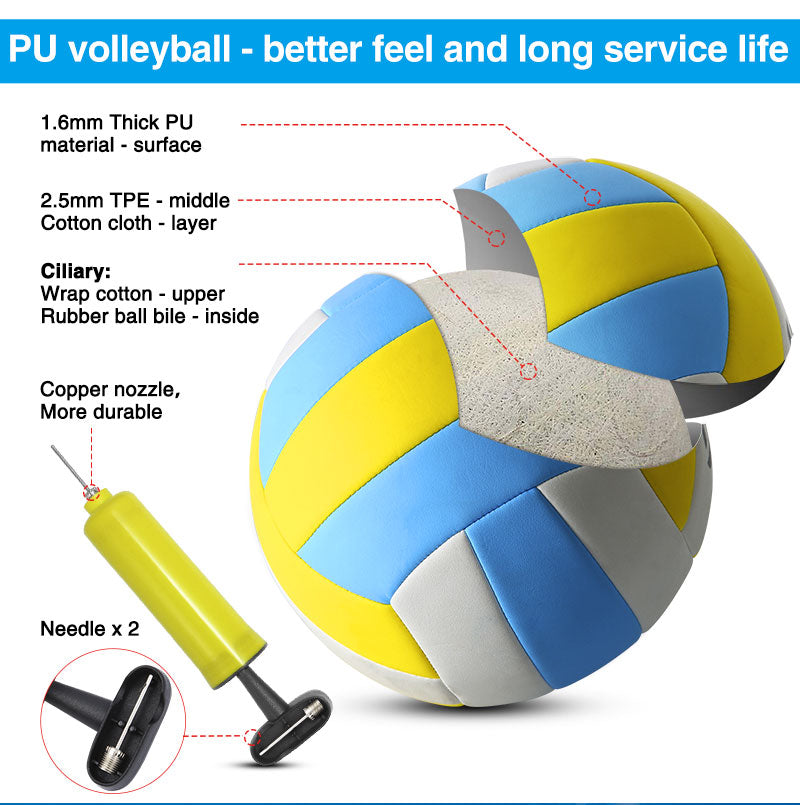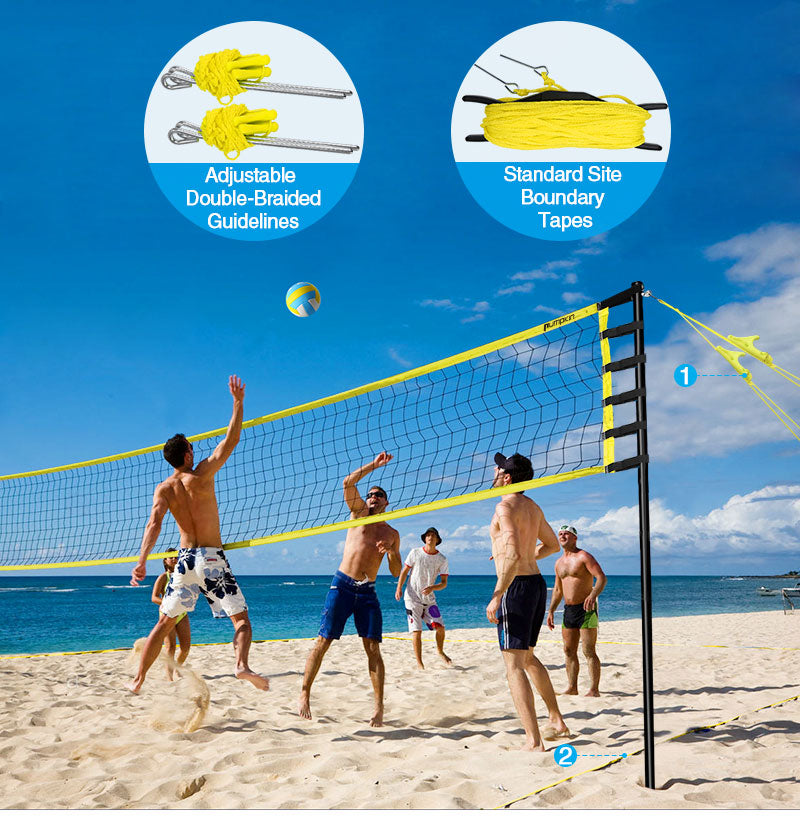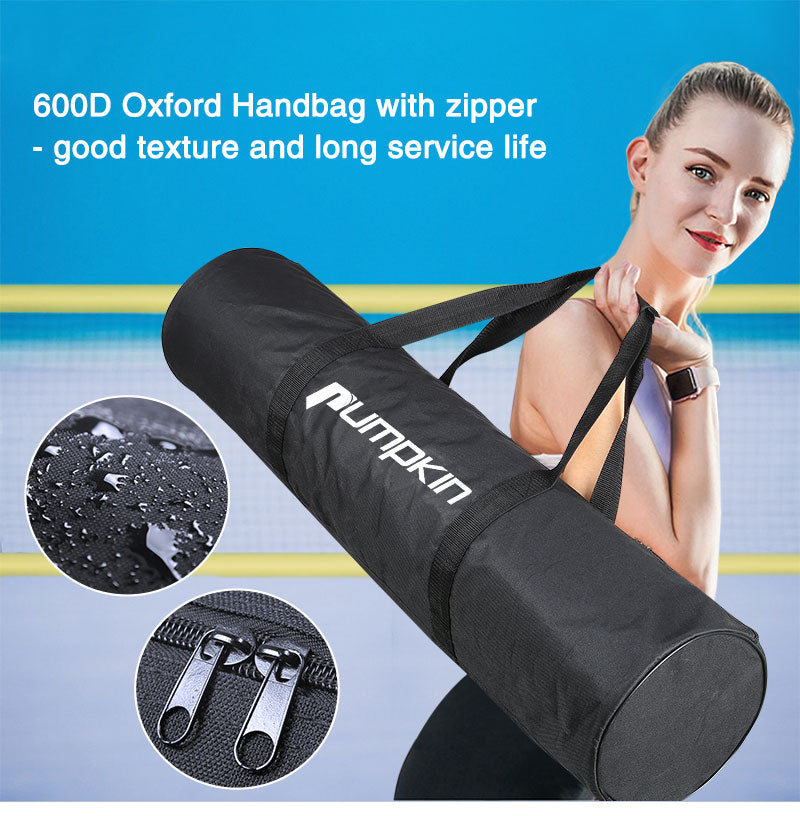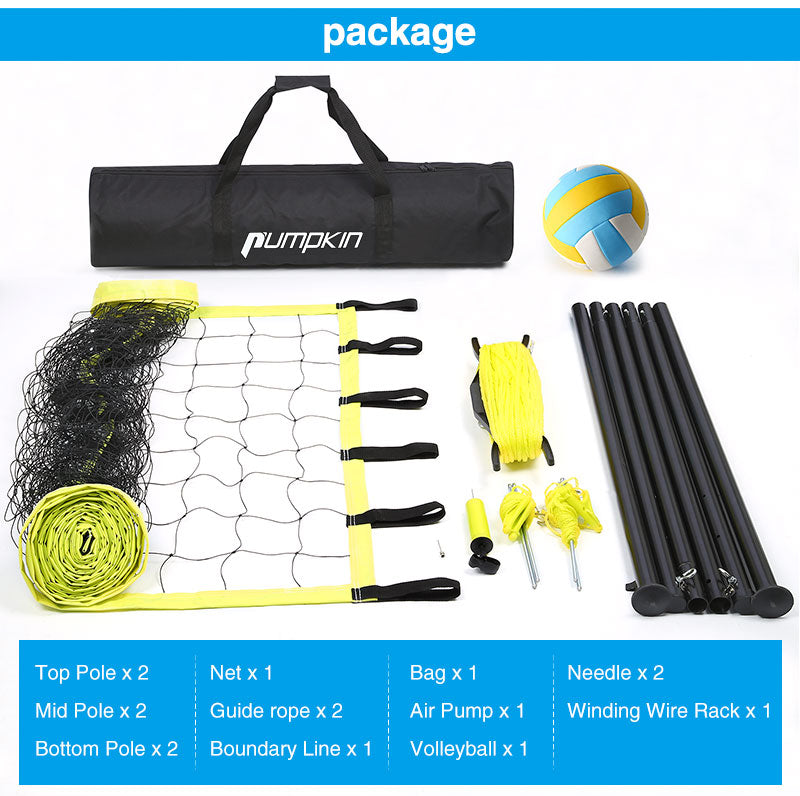 Shipping & Delivery
SHIPPING & WARRANTY
Our goal is to provide you with the best shipping options to ensure that our customers receive the items as quickly as possible. In order to ensure the timeliness of your receipt, your items will normally be shipped from our US warehouse. The time frame for order delivery is divided into two parts:
1. Processing time
Within 24 hours on working days (Monday~Friday: 9:00 am to 18:00 pm, GMT+8:00)

Within 72 hours on weekends and holidays                              

2. Shipping time

Notice
①Free shipping to most states of the USA, But If your location belongs to a remote area (e.g. Hawaii, Alaska, etc.), the buyer should bear the remote fee incurred (Our customer service specialist will contact you before delivery).

②If you want to ship to Europe (such as Germany, Austria, Switzerland ), pls visit and place the order on our German website: https://www.autojoy.de/, if you want to ship to Australia, pls visit: https://www.autojoyau.com.

③If the goods could not be delivered in time due to logistics problems, we will contact customer to resend or refund.

④Affected by Covid-19, there will be some delays in the delivery.
3. Shipping Company
4. Complete Delivery Address
When ordering, please provide the full delivery address including door number, zip codes and so on. Please provide a contact telephone number in case there are questions regarding a delivery location..
5. Order Tracking
We will arrange the shipment for your item within 2 business days after payment confirmation. Once your item is sent, an email with tracking number will be sending to you as well..
6. What should I do if I received the wrong item?
Please contact our service team within 7 days once you have received the wrong item. we will help you solve this problem as soon as possible.
7. What should I do if I did not receive my product?
If the product is on the way more than 9 working days, we will send a 10% coupon to your email for conpensation.
If the package had been signed but actually you still did not receive the product, we will ship another new one to you after we check the express details. Pls contact us immediately if you got any shipping question.
8. How to check your order status?
Once your item is sent, an email with tracking number will be sending to you as soon as possible.
FAQ
1. When will I receive the item after placing the order?
---If not for Pre-sale---We ship products from CA. Generally, it takes 3-9 days after you place the order.
---If for Pre-sale---You will wait for the pre-sale time, plus 3-9 days shipping time.
2. Can the swing be hung on my swing set?
Sure. If your swing frame has hooks, you can use carabiners directly. If your swing frame does not have fixed hooks, you can use the tree straps to fix it. These accessories are provided together, no additional purchase is required.
3. Does this come as one piece or 'broken down?
It comes as broken down pieces but is easy to assemble if following the instructions.
4. Is this lead-free?
Yes. It is lead-free. Our products exceed the ASTM F963-17 safety standards for playground toys which include tests for lead.
5. Can I hang the swing without a tree?
If you do not have a tree or swing frame, we recommend you choose the swing set to withstand. Learn more --> Swing Set
6. Any other questions?
Customer Reviews
You may also like these products