Outdoor play increases endurance and helps improve your child's physical health. While nature will provide the most exciting experiences, the right outdoor toys for kids can help them get the most out of it and make the activity more enjoyable.
There are many aspects to consider when choosing outdoor toys, the most important of which is safety. In addition, because of the imaginative ways your child can use them, outdoor toys must be versatile and sturdy. Here is a list of the best outdoor toys for kids ages 3-12.
Pop-Pass-Catch Ball Game with 4 Catch Launcher Baskets and 6 Balls
Are you boring during the holidays with family? This toss and catch ball sets are suit for you. Whatever backyard, lawn, camping, beach, pool or indoor, you can play with them anywhere you want.Hold the ball holder basket in your hands, press the trigger to launch the ball and another one use basket to catch it. Besides being fun, this sport toys can help your kids collaborate and interact with other kids more easily. Help them develop fine motor skills and increase social skills.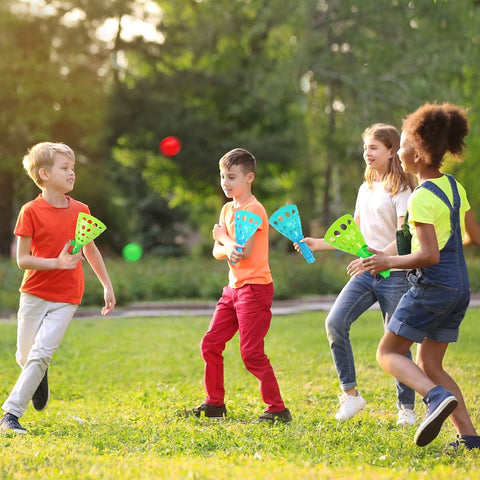 Upgraded 10FT Climbing Dome with Canopy and Swing
This is a great addition to your backyard adventure. Measuring 10ft diameter and 5ft height, it provides more space and allows 6 kids to play together. Thanks to the heavy-duty construction, it can hold up to 800LBS and be sturdy and safe enough for the kids. Besides, its climbing grips are designed for kids' tiny hands to grab. With the swing and canopy, your kids can climb, jump, fly and rest. And don't worry, it gets a free bag to store canop.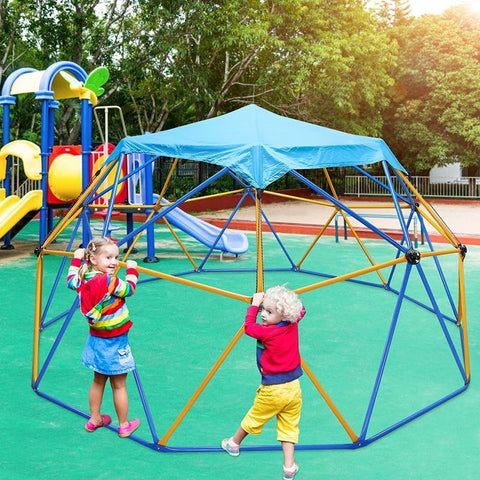 Tangle Free Throwing Toy Parachute
No more strings tangled playing with this educational toy, suitable for both boys and girls. Can be a perfect gift on holidays such as Easter Day and Christmas, birthday party or theme party, bringing more fun to your family and children.This parachute toy imitates the real landing situation, improving children's manipulative ability, operational skill, intelligence and creativity while playing simulation games.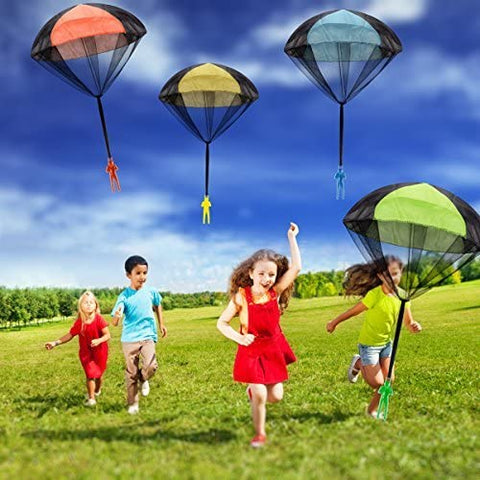 Camping Play Tent with Toy Campfire / Marshmallow /Fruits
Simulate the real camping,to feel the burning bonfire,to listen the sounds of wild insects, and to taste the sweetness of barbecued marshmallows.The plentiful of toys allow mutiple roles paly.Eg: Dad goes to meat barbecue, Mom goes to slice fruits and prepare the food, little ones baked the marshmellows.Or one kid to experience mutileple scenes during pretend play game with imagination.The set always keep to inspire kids endless reveries and curious minds.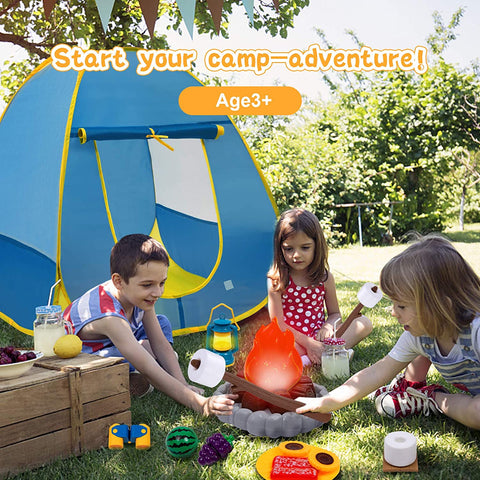 50FT Ninja Warrior Obstacle Course
10 Different Slackline Obstacle Courses for Kids to Conquer.Perfect ninja course for kids 5+ for backyard family fun, get togethers, summer camping, party challenge, junior intro training set, playground equipment, park, beach trips, outdoor and indoor games, etc.Upper ninja slackline and bottom slackline design offers enough security. Especially helpful if your kids don't have enough strengh to hang on the obstacle courses. You can also use the slackline to do balance trainning.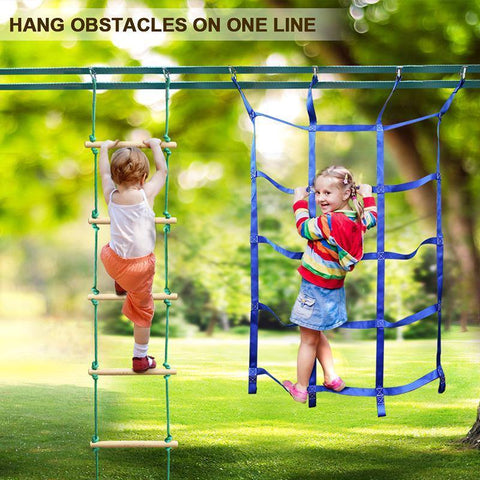 All toddlers like bubbles, it create a beautiful world- green grass, blue sky, old castle with bubbles, like the scene of fairy story.kids can push it to anywhere with bubbles, easy to star and stop the bubbles by pressing the button on bubble mower.It looks just like mom and dad's lawn mower with it's realistic design with shape and engine sounds.Who said yard work had to be boring? Mowing with dad got lots of fun.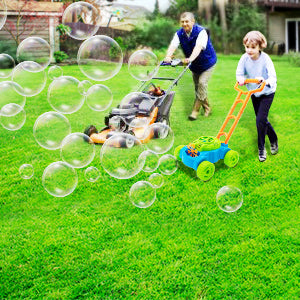 Things that must be considered when purchasing outdoor toys for children.
Durability: Plastic is an excellent choice for children's toys because it is lightweight and does not break easily. However, be sure to purchase quality toys made from BPA and phthalate-free plastics.
Types of play: Buy toys that encourage coordinated play, pretend play, and individual play.
Safety: Check that toys are safe for your child. Consider toys with non-slip bases, ergonomic handles, and lightweight foam construction.
Size and weight: Make sure the toy is within the size and weight range that your toddler can handle. Bigger and heavier toys are more challenging to play with, but they also carry the risk of injury.
With so many games to keep your child interested in nature, outdoor toys can keep the fun going. The above list of the best outdoor toys for children will meet your child's various play needs. Find the right one for them based on their stage of development.